Business Credit Learning Center
Many companies that advertise corporate credit and promote amounts you will receive but they cannot deliver because they are not the lender. Most companies advertise they will obtain an 80 paydex score. This is just one of 5 scores needed and with only a paydex score you will not achieve your goals. All scores must be in proportion to your business credit. A large portion of our new customers are from our competitors who under delivered or didn't deliver at all. This resulting in many clients having us finish or repair damage done costing an additional investment in their company?s credit profile. No credit builder can guaranteed an amount because they are not the lenders. Only the lenders will determine what credit your company can service or if it can obtain a business credit card.
We have a program that can get you $20,000 to $400,000 or more in cash loans.
Our guarantee: If you follow our program and we don't get you credit it won't cost you a cent.
Call 1-888-444-4812 for details
We know the value of a pristine corporate credit profile. A complete credit profile for your business will not only streamline operations for your business but your personal life as well.
Business credit is NOT like personal credit. Each time you use your personal credit you affect your score. This is not the case with business credit.
Even if you have poor credit we can assist you in establishing a good business report.
There are also over 150 mitigating factors for every line of business which will influence your company's credit scores. Knowing which factors will impact yours in advance can help you avoid costly and at times irreversible mistakes which can impact your business for the next 5 years.
What you get…
We Do All The Work For You
Your Creditors Are Selected For You
We Complete and Deliver All of Your Paperwork
Business Information Report Review
Obtain Your Credit Scores For You
1-Year of Credit Counseling and Business Coaching

Access to our Database of Willing Creditors
We Open Trade Lines and Get You Credit
DUNS # in 1-2 business days
Monitor changes
Will assist in setting up vendors on the customers behalf usually within 30 Days
Will help manage your companies credit for one year. We plan on providing customers with access to their CIPR reports for a year
Will keep clients abreast of economic funding climate
How Much Can I Get?
We have clients who have gotten from $20,000 to $2 million in loans. Keep in mind, lenders don't have money to lend for being dumb. This isn't a, "Trick the lender into giving you their money," and then a "ha ha ha I fooled them," phenomenon. The purpose of corporate credit or business credit is to borrow money to create or grow an actual business that can produce an ongoing revenue stream for you.
So, the answer to the question is…as much as you can show the lender that you can pay back. That's why our program is designed to build a real business credit score and get you actual credit for your company.
We are not here to give you a fish. We are here to teach you how to fish so you can eat for a lifetime.
Besides, wouldn't you rather have a business that can generate enough cash to support you for the rest of your life? That's what this program is all about.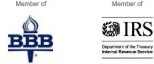 Recommended by the IRS for excellence in service and an accredited company with the Better Business Bureau.
Without the free credit consultation, I would have purchased any credit builder program, but after talking to the counselors and being told about the world of business credit and having my options explained to me, I made a confident decision for my business. Without that, it could have taken me much longer to be where I am now. I have tens of thousands of dollars in credit lines and received a cash line from a bank in months. You have a great team!