Business Credit Programs
Whether your business is brand new or has been around for a while, we have credit programs that will get you to your financing goals. Our professional credit consulting will make sure your business is ready for the credit profile building process and will satisfy commercial lending requirements. We start where your business needs it; for brand new businesses, we will incorporate a new entity or offer you an aged corporation that you can build a credit profile with, quickly. Each
corporate credit
solution is tailored to your business and goals.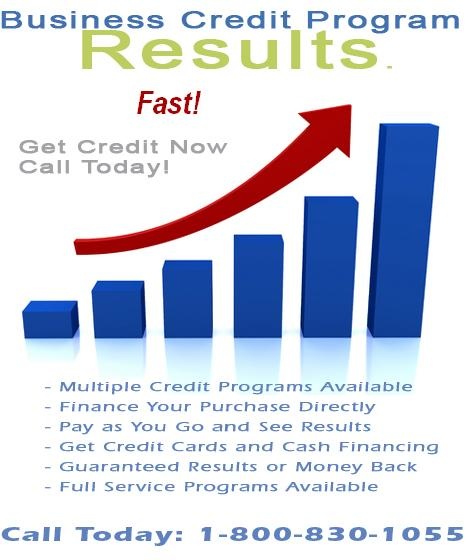 Get $100,000 to $200,000 in cash lines of unsecured business credit without paying for credit building service until you get financed. more info…
Business Credit Program Results
We offer a customer satisfaction guarantee with all of our services and promise you and your business results with your credit profile development. Building business credit with a professional program means you can focus on running your business while we provide you with tools, resources and guidance so you can grow credit in the shortest amount of time. Our clients typically have credit in a month or two and are well on their way to jumbo bank loans towards the end of our credit program.
"Building credit for your business is a journey… you can embark on the journey with no assistance or the security of a professional guide."
Take the guesswork out of your journey, avoid the most common mistakes and accelerate your credit building path to having separate corporate credit without the use of personal guarantees. Get credit for your business in 30 to 90 days.
Business Credit Program Summary
Below are the features of our standard credit program and listed below are optional services that will enable you to develop a separate credit profile for your business without the use of personal guarantees.
Credit Compliance Check
Depending on your state of incorporation, type of business and products or services provided, you have compliance items and operating formalities that must be adhered to. We complete a check for all of these and our first step is to make sure your business is prepared for scrutiny by banks and lenders.
Business Credit Profile
Your business' credit profile will be created with all of the major bureaus and agencies – a true separate profile from the personal credit reports of owners and officers of the company.
Obtain Paydex® Score or Rating
Assistance in the development of your business credit to achieve a Paydex® score of +75. This involves getting your business the credit to establish and build its credit profiles with the major reporting bureaus.
Business Information Report
We will obtain business information reports and review them with you and based on the details, provide professional recommendations and an executable action plan that will take your business to the next level of building business credit.
Creditor and Lender Selection
Not all lenders are equal when building business credit. Some lenders only report missed payments or negative payment activity. Some vendors who establish credit terms, don't report at all. Some only report to one credit bureau. When building your business credit, you want to select vendors that work best for your goals, not just those that will grant you credit. You need vendors that make sense for your business and work with the creditors that will advance you on your way to business credit.
Application Preparation
We will prepare all of your credit applications for you in order to ensure that the information submitted is accurate and timely. This is important for the beginning of the process so that you are not declined by a lender early on in the process.

Additional Business Credit Building Services

Business Incorporation
We will for a new business entity that you can build a corporate credit profile with.
Aged Shelf Corporation
We have pre-incorporated business entities between 3 months and 99 years old that are excellent tools to build business credit and can advance you on the path to big cash lines with the history of an age company.
EIN Number
We will apply for, or obtain, your Federal Employer Identification Number (EIN).
Talk To a Business Credit Counselor for
FREE

, we answer your quesitons.
Without the free credit consultation, I would have purchased any credit builder program, but after talking to the counselors and being told about the world of business credit and having my options explained to me, I made a confident decision for my business. Without that, it could have taken me much longer to be where I am now. I have tens of thousands of dollars in credit lines and received a cash line from a bank in months. You have a great team!